Working almost everyday with woven cloth makes you very aware of the type of edge  that you have, ideally making kilts you want to have a finished edge at the bottom of the kilt, but one that isn't actually hemmed. The  traditional shuttle weaving produced a selvedge ( self-edge),  a term that is widely and also a  little inaccurately used today. A selvedge  by actual definition is the  clean edge formed when the shuttle on the loom goes back and forwards with a continuous and unbroken thread ; this method when carefully managed produces a beautifully pure edge with no added weight of change of feel, it is the most desired edge for kiltmakers.
Of course it isn't always quite that simple, over the years kilting cloth has been produced on different types of looms and most weavers today use high speed looms which no longer can make a true selvedge. These looms can weave in a few hours what a traditional hand weaver  would have woven in a week or more.  With the change of loom there has been a change of fabric edge.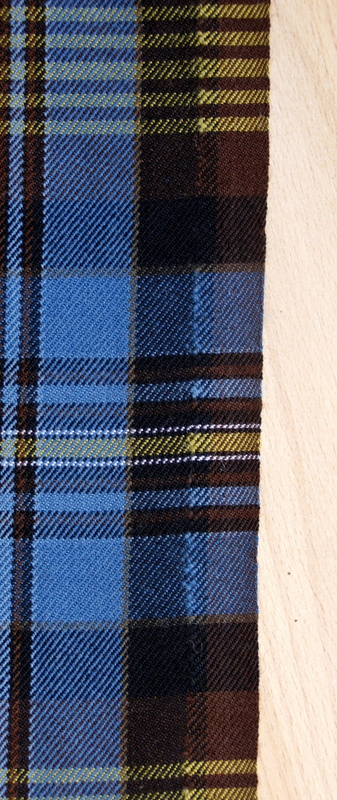 The most usual one for kilts is now called a tuck edge where  one thread is woven at a time and then folded back upon itself for about  a cm and then the next thread  is introduced and forms the next line of cloth,  working with a single length  of thread is very much faster and looms use a variety of high speed methods for shooting the thread across including compressed air  or even water, but the key thing is that a shuttle is no longer needed. This edge is slightly firmer and often a little more stable, but it has a little line of  cut threads about 1 cm from the actual edge, these are not terribly noticeable depending on which side of the cloth is used. Most tartan weavers now use this edge for the majority of their production.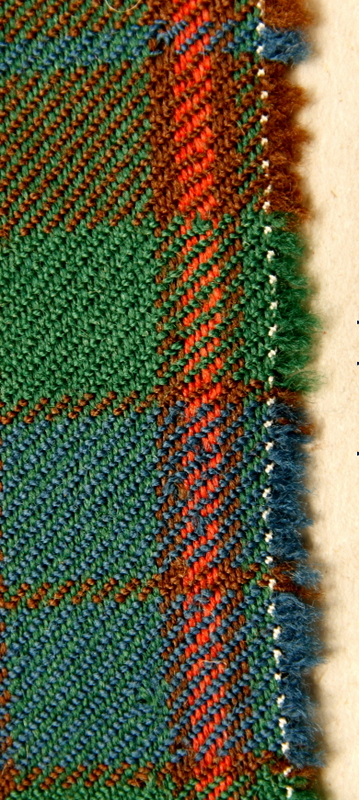 Another edge that is sometimes seen is a leno edge, which has a distinctive extra few twisted threads often  white at the edge and a fringe from the uncut weft threads,this is the possibly the faster weaving method but it does mean that any kilt fabric will have to be hemmed. One excellent Scottish weaver has worked out how to have a selvedge  on one side and a leno on the other, they use this on single width tartan and this means that a kiltmaker still has the  chance to use a good edge at the bottom of the kilt, and the leno edge is cut off and used for the waistband, and hidden from view.
While a selvedge is the favourite  it is not always the easiest to produce these days and is now more expensive with only a few weavers offering this. When it is well done it is excellent, but some weavers try  it and fail miserably, this is an example of a rushed and imperfect selvedge, however with a lot of ironing, steam and pulling and stretching it can be made a little better, and if it wasn't for a special order it would have been returned, a kiltmaker has enough to do without trying to fix  a weaving problem. Often I'd rather have a tuck edge than having to spend time remedying a weaver's  problems.
Watching a weaver work is a wonderful experience, seeing the magic work of converting a mass of threads into a cloth is fascinating. Traditional looms for weaving tartan  haven't changed very much in hundreds of years,  a strong wooden box like construction , but actually very simple, relying on the skill of the weaver and a flying shuttle ,it was the only way of producing any from of tartan until the beginning of the 19th century.
Mechanisation happened and the introduction of power looms  made the mass production of tartan possible, dobby looms which followed around the 1850's  revolutionised the speed  of weaving and the possibility of more complex designs.
It also meant that some weaving could be done at home or outbuildings which is largely how the Harris tweed industry came about, with a benevolent investor many looms were bought and  the local community began to change what was already a low level cottage  occupation into a world wide industry. The looms most associated with Harris tweed are the Hattersley single width looms  many of which are still working nearly one hundred years later. They are wonderful work horses   excellent for the substantial tweeds. These looms do produce a selvedge  but realistically with the heavy yarn it's not  often usable without a hem for kilts. One edge will be smoothish and the other will have all the carried threads, but as  the tweed is generally for pattern based clothing this presents no problems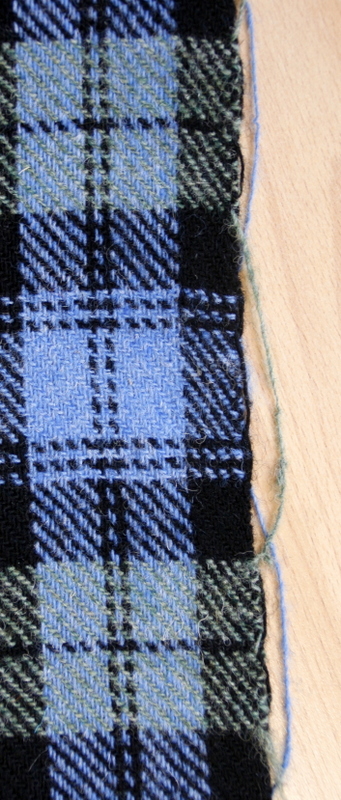 One last little nugget; occasionally  I see a thread that has been attached to a length of cloth this tells me that there is a fault of some sort, the thread is always at the edge ( this time a tuck edge)  and the flaw will be roughly in line with it, when the cloth is rolled up it is easy to see how many threads to judge what sort of quality to expect, this is supposed to be the origin of the phrase "no strings attached" meaning that the cloth was good quality and that no extra work was needed to  put it right!